Our vision on …
The launch ceremony for the European Union - Vietnam Business Council (EVBC) at the VCCI Premises in Hanoi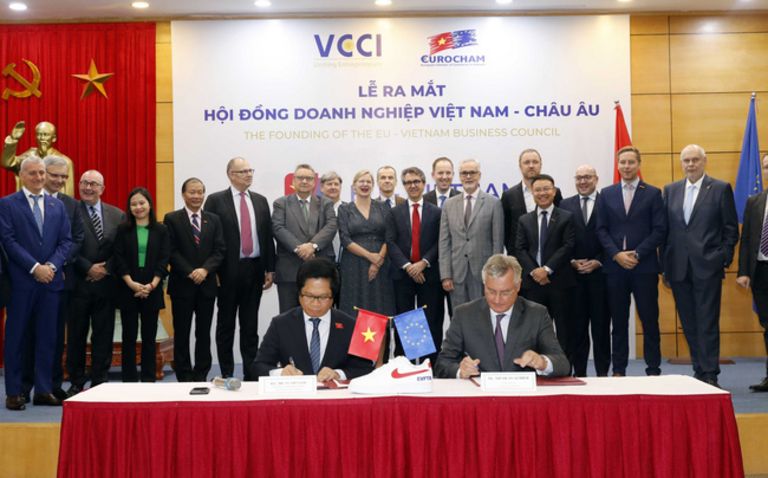 The EVFTA came into force on 1st August 2020. It is an ambitious pact eliminating 99 percent of custom duties over the next few years and paving the way for increased trade between the EU and Vietnam.
Today, on 22nd October, the Chairman of the Vietnam Chamber of Commerce and Industry (VCCI) and the Chairman of the European Chamber of Commerce in Vietnam (EuroCham) agreed to jointly launch an initiative to establish the European Union - Vietnam Business Council (EVBC).
This council will ensure the success of the trade agreement by helping the two organizations in the implementation of the deal, further supporting companies from both sides and boosting cooperation and trade between Vietnam and the EU. EVBC is a non-profit, sectoral policy support organization that has development advantages for both sides.
Present at this ceremony were the EU Ambassador Mr Giorgio Aliberti; many ambassadors from European countries including Mr Warnery; the President and board members of EuroCham as well representatives from Business Associations. On the Vietnamese side, political leaders from MoIT, VCCI and key Industrial Associations such as Vitas and Vasep.
Here is a brief overview the structure of the EVBC:
An Executive Board including 10 members (EuroCham and VCCI shall each appoint five members at their convenience including 2 Co-Chairs: VCCI Chairman Vu Tien Loc and EuroCham Chairman Nicolas Audier)
Several Working Groups: 15 sectors of key importance in the trade relations between Vietnam and EU.
And the Members: all Vietnamese and EU businesses, as well as business associations in various sectors wishing to promote cooperation. EVBC Membership registration is completely voluntary and free.
For more information on the EVBC, feel free to contact EuroCham or CCIFV!
A dedicated EVFTA Helpdesk
On that note, we would like to inform you that CCIFV recently created an EVFTA Helpdesk
This new service intends to help you navigate the complex legal system of the Trade Agreement. To this end, CCIFV regularly publishes on its website and on its social networks, in French and English, articles and guides intended for European and Vietnamese companies.
The French Chamber also organizes thematic webinars to let companies know how to take advantage of the agreement.
We are available to answer any questions on this topic, please contact evfta(@)ccifv.org