Women in Leadership at the UN WEPs Awards 2020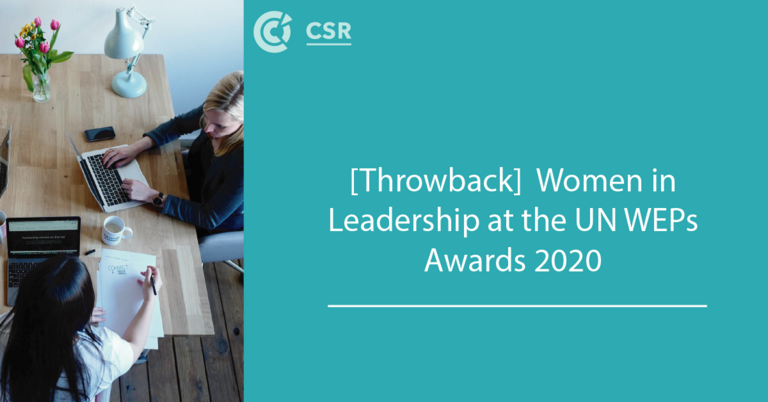 Companies need more women leaders.
This theme has been highlighted in numerous studies and most recently in Mc Kinsey's Women in the Workplace 2020 report.
Under the highly challenging circumstances of the pandemic, many employees are struggling to do and keep their jobs. Women in particular have been negatively impacted, fearing for their financial security. Still progress towards gender parity remains modest, even though research shows that company profits and share performance can be close to 50 percent higher when women are well represented at the top.
Women excel at the soft skills needed to be good business leaders. They represent a huge economic power while offering important consumer insight. Yet, women are still underrepresented in key fields and are less successful when it comes to salary negotiation.
On 26th November, at Melia Hotel Hanoi, UN Women, the United Nations entity dedicated to gender equality and the empowerment of women, invited CCIFV to attend the Vietnam's WEPs Awards 2020.
The Awards for women leadership is the first awards initiative in the region to recognize exemplary business practice for gender equality.
The WEPS Awards rewarded 5 categories
Leadership Commitment
Workplace Gender Equality
Gender-responsive Marketplace
Community and Industry Engagement
COVID-19 Action
The judges for the Vietnamese edition:
Mrs Nguyen Thi Tuyet Minh, Vice President of the Central Council of Vietnam Business Associations and Founder and the 1st Chairwoman of ASEAN Women Entrepreneurs' Network.
Associate Professor Dr. Le Quang Canh, currently the Vice Director of Institute for Sustainable Development and a lecturer for Faculty of Development Economics, National Economics University
Mrs Ha Thi Minh Duc, PhD in economic management, and Deputy Director of the Department of International Cooperation under the Ministry of Labour, Invalids and Social Affairs of Vietnam
And Mrs Nguyen Thi Phuong Thao, Deputy Director and Vice Chairwoman of Vietnam Women Entrepreneurs Council (VWEC) under the Vietnam Chamber of Commerce and Industry (VCCI).
Among the leaders and businesses rewarded for their achievements: Nestle, TH Group, Unilever and Sai Gon food.
For more information and to learn about gender equality best practices for the workplace, contact CCIFV's CSR Department. We can help you make changes for the better.