Event report
[Throwback] Webinar "Vietnam, the next destination for your business"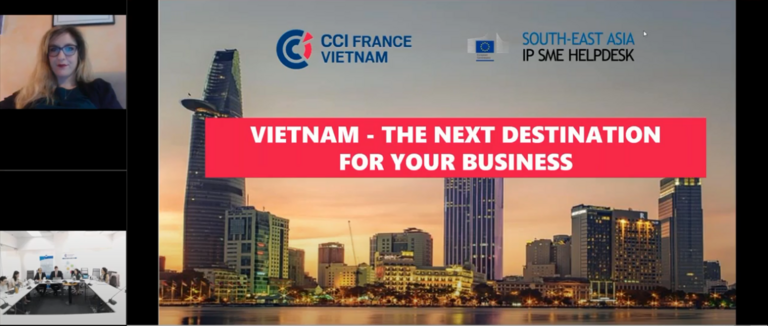 Last Thursday Oct 22nd, CCIFV and South-East Asia IP SME Helpdesk organised an online seminar focused on the effects of the EU-Vietnam Free Trade Agreement (EVFTA) on the Vietnamese business landscape.
Mr Adam Koulaksezian, Executive Director of the CCIFV, and moderator of the event, opened the webinar drawing up an overview of the Vietnamese market and its trade ties with the EU. He then passed the floor to Mr. Huu Nam Nguyen, Deputy General Director, VCCI in Ho Chi Minh-City, to explain how to benefit from the preferential tariffs under the EVFTA.
The Deputy General Director of VCCI underlined that the use of the preferential tariff rates of the EVFTA is still limited (37,2%), due to the lack of understanding of the rules of origin under this free trade agreement.
Mr Nguyen raised understanding of the EVFTA's stipulations, especially the rules of origin and the stipulations on the documentation required to take advantage of the EVFTA custom duties' reduction. He also explained to participants how to read the Tariff Schedules and how to calculate the reduction of customs duties.
Following this general presentation of the EVFTA, Dr. Marta Bettinazzi, IP Business Advisor of the SEA IP SME Helpdesk and Mrs. Yen Vu, Chairwoman of EuroCham Vietnam IPR Sector Committee & External Expert of SEA IP SME Helpdesk, shared further insights on the protection of intellectual property (IP) in Vietnam and the changes resulting from Vietnamese commitments under the EVFTA in this area​​​​​​​. The speakers raised attendees' awareness of the fact that IP registration is the first crucial step to enforce your rights. Further to that, with real case study examples the speakers gave a more in-depth view on how the IP system works in Vietnam and how right holders can effectively protect their IP when doing business in the country.
We would like to thank all speakers for their deep insight and all the participants for their time and attention.
Should you have any further concerns or questions, please do not hesitate to consult our articles and guides and/or contact the CCIFV and South-East Asia IP SME Helpdesk.