Event report
[THROWBACK] Visit of the Thu Thiem Bridge 2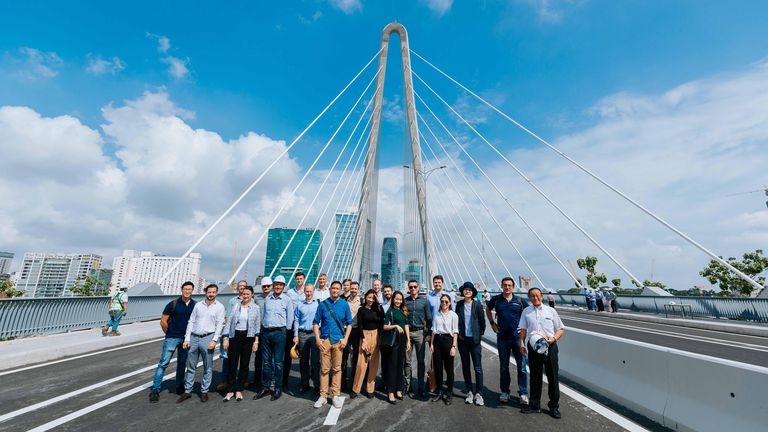 This morning in HCMC, Mr. Alain Granet, Project Manager at Freyssinet Vietnam , invited the members of CCIFV Construction Sector Committee, to visit the recently finished Thu Thiem 2 bridge prior to its forthcoming inauguration on April 28th. Mrs Emmanuelle Pavillon-Grosser the French Consul General and our Chairman Thibaut Giroux were also in attendance.
Freyssinet Vietnam, established in 2003 and headquartered in Hanoi, has recently finalized the construction of Thu Thiem 2 Bridge, a new cable-stayed bridge located in central Ho Chi Minh City in Vietnam. The bridge has a unique, back-inclined curved pylon and asymmetric span arrangements. Such a structure is complex to design and challenging to build. WSP Finland and Freyssinet have been assigned as designer and main contractor, respectively.
After 7 years of construction, it is 1.4 km long and six lanes and connects the Thu Thiem New Urban Area and District 1. After multiple delays, the intricate project will finally be inaugurated on April 28th.
The French group Freyssinet is a leader in civil engineering. With 600 subsidiaries worldwide and 7,300 employees, the Group helps design, build, maintain, repair and monitor structures, large and small, to make them safer and more durable, using a range of technologies and methods unparalleled in civil engineering.
As a general contractor or as a subcontractor, Freyssinet brings together an unrivalled range of civil engineering skills.
Sources:
1/ Freyssinet website
2/ VnExpress International