Event report
[SECTOR COMMITTEE] Human Resources - Impact of the strict social distancing directive on the production sites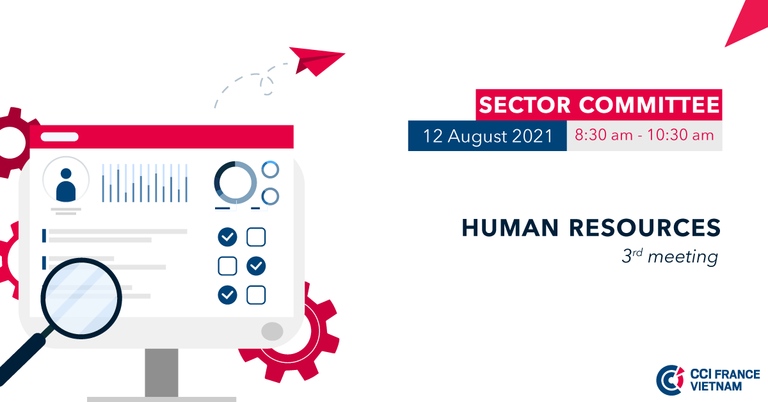 As Vietnam is battling its deadliest wave of the virus, some companies are forced to stop production, while other facilities are setting up "production bubbles" to keep running.
Launched in July for essential operations, the "3 on-site" model involves eating, sleeping, and working without leaving the company. Our business community has to cope with complicated developments, numerous challenges have arisen and priority is given to maintaining industrial production on an even keel.
This Thursday, CCIFV members joined the 3rd meeting of our Human Resources Committee. We discussed how to follow the strict guidance processes in Vietnam, while maintaining production and business activities, contributing to carrying out the local targets on economic development.
Among the panelists, Mr Jean-Luc Voisin, CEO of Les Vergers du Mekong, a responsible company in the Food and Drink Industry, and Mr Bruno Rollet, General Manager Finance at Olmix Asia, a company specialized in health and nutrition of plants and animals, and Mr Thibaut Vitre, Industrial Operations Director for Vienovo Vietnam, shared insights on the impact of social distancing on their respective production sites.
Takeaways of the meeting:
We had interesting feedback from production sites confined with their employees.
Some solutions involved:
Consistent communication with employees (WhatsApp or Zalo groups)
Personnel rotation
Asking the local authorities to permit at home quarantine between shifts
After work group activities to maintain a good atmosphere.
We note that the sharp drop in orders, disruption of operations and severe blockage of supply chains are the main challenges, while employee's motivation remains strong thanks to the resilience of most workers.
If you want to take part in the discussions of our HR Committee, register for our next event. It's coming soon.