Mövenpick Resort Waverly Phu Quoc honored as the Best "Luxury Family Resort In Asia" of The World Luxury Hotel Awards 2020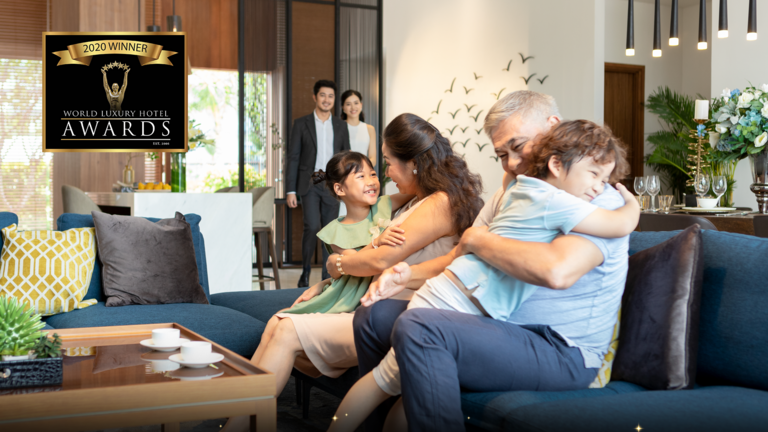 Despite the hotel's opening in March 2020 – an aggravating moment for world tourism, the appeal of Mövenpick Resort Waverly Phu Quoc does not appear to be undermined. As stunning images of the 2.5-km long isolated beach with marvelous family-friendly spaces emerged, and above all, thanks to flattering praises from representatives of international travel agencies in their visit to Mövenpick Resort Waverly Phu Quoc prior to its opening, as well as sincere reviews from our domestic guests, this one-of-a-kind luxury resort was nominated in 3 categories at The World Luxury Hotel Awards this year and was honored to have won "The Luxury Family Resort" after only 8 months in operation.
From the elegant movement of Swiss seagull on pearl island to "The Luxury Family Resort"
Strategically positioned and methodically developed ever since its planning, Mövenpick Resort Waverly Phu Quoc is the "sweet result" from the joint efforts of MIKGroup and Accor Hotels in the development of the Swiss brand Mövenpick on the Phu Quoc pearl island. Located on Ong Lang beach, which is crowned as the "Sleeping Beauty" of Phu Quoc island, Mövenpick Resort Waverly Phu Quoc guarantees to meet the families expectations for a serene and private vacation. Furthermore, the true highlight lies in our exquisite services, our lifestyle and recreation activities, which makes us a "home away from home" for our guests and earns us a nomination in the "Luxury Family Resort" category and ultimately a triumph over thousands of other reputable resorts.
With more than 305 hotel rooms with its sea-view balcony, Mövenpick Phu Quoc is the ultimate destination for a weekend getaway among young families. We offer a perfect harmony between peaceful relaxing secluded space and enjoyable common space with energetic and cozy activities such as "Chocolate Hour", Aqua Zumba, beach parties and BBQ pool parties. For multigenerational families, 79 villas with delicate touches amenities, "tailored" to each of our visitors, such as villa butler service, private villa BBQ dinner or sunset foot massage, are the ideal place for families to bond and spend quality time together.