Members
Archetype Group: 20 Years of Pioneering Innovative Construction Solutions, Big Visions for the Future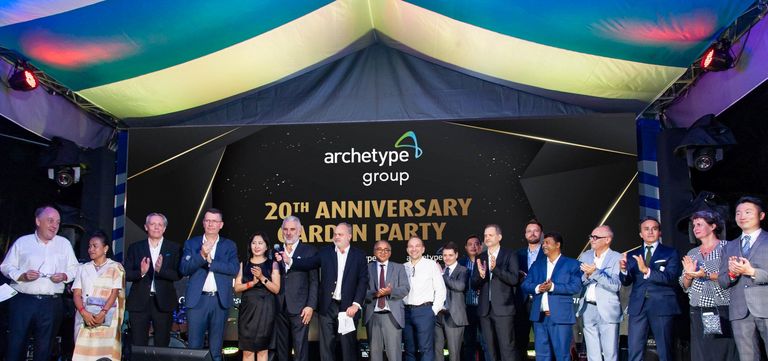 One of the most celebrated testaments to social and economic development is the evolution of construction and design. From the towering skyscrapers and innovative factories that exude modernity, buildings are the tangible proofs of a storied past and the visions for the future. Over the last 20 years, Archetype Group has not just witnessed this evolution but has pioneered significant movements in the sector.
Established in 2002 by French entrepreneurs, Mr François Magnier and Mr Pierre-Jean Malgouyres respectively Chairman and General Director, Archetype Group is now one of the international leading multi-disciplinary construction consultancies with core services in Architecture & Master Planning, Industrial & Process Engineering, Building Engineering, and Project & Cost Management. Archetype delivers a broad range of projects, from luxury hospitality properties and mixed-use high rises to educational and healthcare facilities and top-notch industrial projects.
From its humble beginnings with a team of 10 people in Hanoi and Ho Chi Minh City, Archetype Group now has more than 1000 collaborators in 26 registered offices across 18 countries and a network of reputable partners – "Archetype Alliance" – in 30 countries and territories in Asia, Africa, Europe, Middle-East and Latin America.
Celebrating 20 years of passion for innovation
To honor its 20 years of excellence in the construction and engineering sector, Archetype Group held a special anniversary celebration at the French General Consulate Residence in Ho Chi Minh City on November 28th, 2022. The firm is a member of the European and French business chambers in Vietnam and has contributed to cementing European and French know-how.
Mme Emmanuelle Pavillon-Grosser, Consul-General of France in Ho Chi Minh City, said: "France is recognized for our strong expertise in many areas, including construction and industry. We've produced international leaders in these sectors. Archetype Group is one of them — striving for excellence and keen to share the knowledge of its international experts to train new professionals around the world and utilize its prowess in the design of projects."
To date, Archetype Group has worked on 1500 world-class projects around the globe, some of which have been recognized by prestigious award-giving bodies. 5 Archetype hospitality projects were among Condé Nast Traveller's Top 7 hotels and resorts in Southeast Asia in 2022.
Archetype Group has gained a unique knowledge of its local market, with international expertise and an unceasing drive for innovation. The firm collaborates with over 1,000 well-respected names in the fields of architecture, engineering, design, and project management across four continents. Its talented architects are among the top 100 architects in the world.
Shaping tomorrow: Continued client-centric approach with a focus on sustainability
Archetype Group steps into a new chapter with the launch of its new brand identity, strengthening the company's client-centric approach to meet each project's specific needs and demands.
Archetype reality
Archetype Reality is the preferred partner for real estate and hospitality players. It brings best-in-class services for developers, constructors, and brands. Archetype reality focuses on four main sectors: hospitality, mixed-use high-rise, commercial & retail, and healthcare.
Archetype industry
Archetype industry serves the most renowned companies in industry and manufacturing. The company has gained excellence in understanding the most sophisticated expectations of each sector. Archetype Industry focuses on pharmaceuticals & cosmetics, food & beverage, chemicals, and advanced technologies & data centers.
archetype _y
archetype _y is a new integrated studio that combines feasibility with creativity, delivering cutting-edge experiences that can meet or go beyond our clients' ambitions.
Archetype Group has also been a long-time player in green buildings design, collaborating and advocating with public and private environmental organizations.
The firm is committed to a zero and low carbon footprint. Archetype Group is recognized by the International Finance Corporation (IFC) of the World Bank and the Excellence in Design for Greater Efficiencies (EDGE). Archetype have been working as well on more than 50 projects reaching LEED (Leadership in Energy and Environmental Design) silver, gold and platinum certification. It has also created a wholesome workplace where the well-being and health of its employees across its offices are prioritized.
Archetype Group acknowledges its influence in the industry for Shaping Tomorrow. Archetype projects are built to last and leave positive impacts on society.