The COVID-19 Vaccination Strategy in Europe
Last update on 15/09/2021
The COVID-19 Vaccination Strategy in Europe
The vaccination campaign in Europe started on December 26 and 27. What is the current situation? Which vaccines are authorized? Find out the latest updates.
Overview of vaccination rates in Europe
The rollout of Covid vaccines in the European countries is gathering momentum, with over 300 million doses administered so far. As of 20th June, nearly half of the EU's adult population has had at least one dose, while 28% have been fully vaccinated.
Here are the key figures for Europe's vaccines rollout:
Over 390 million doses have been delivered
75% of the adult EU population have received at least one dose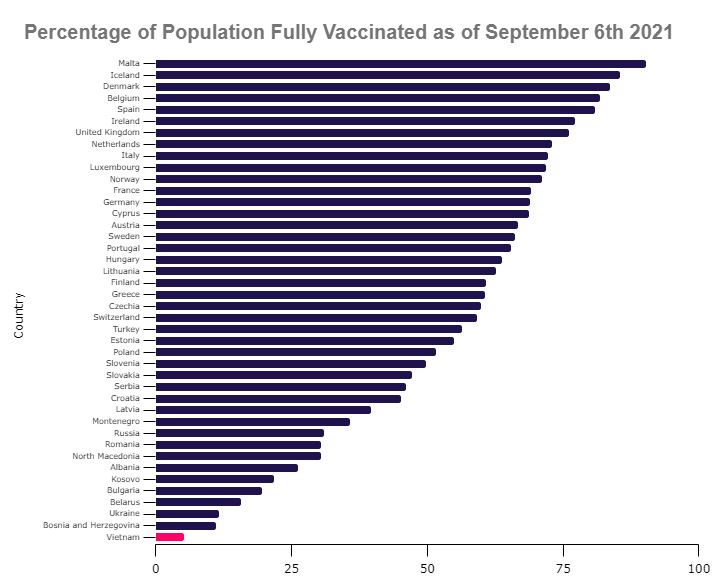 In the European Union, member states are not allowed to strike deals with vaccine manufacturers with whom the EU already has an agreement. They can only make separate deals with vaccine producers which are not suppliers of the EU. Hungary has been using Russia's Sputnik vaccine for months and Slovakia has also bought doses of it. Germany began talks to secure supplies of the Russian vaccine and Austria said it would buy one million doses, but only once the EU's medicines agency approves it for use. Besides, the Czech Republic and Poland have entered talks with both Russia and China.
In total, the European Commission has secured up to 4.4 billion doses of COVID-19 vaccines and negotiations are underway for additional doses. Vaccine deliveries to EU countries have increased steadily and vaccination is gathering pace. The Commission is also working closely with manufacturers, in order to step up vaccine manufacturing capacity.
The Commission and EU countries have committed to deliver over €2.2 billion to COVAX, the global initiative aimed at ensuring equitable worldwide access to the vaccines.
Vaccines authorised in Europe
The European Commission has been negotiating intensely to build a diversified portfolio of vaccines for its population. Contracts have been concluded with 6 promising vaccine developers, securing a total of up to 4.4 billion doses.
The European Medicines Agency (EMA) has so far given 4 conditional marketing authorisations for the vaccines developed by: BioNTech and Pfizer, Moderna, AstraZeneca and Janssen Pharmaceutica NV. Several other vaccines are at different stages of assessment, see table below:

The EU is working closely with the industry to step up vaccine manufacturing capacity.
At the same time, they have started work to tackle new variants of the virus and to rapidly develop and produce vaccines effective against those variants. For this purpose the HERA Incubator has been launched to bring together science, industry and public authorities and speed up work and leverage all available resources to enable Europe to respond to the threat in a timely manner.
The Commission has also concluded exploratory talks with: Novavax with a view to purchasing up to 200 million doses, and Valneva with a view to purchase up to 60 million doses.
Besides, a large majority of the Member States intend to offer vaccination free of charge.
Perspectives
To prepare for the future, the European Union is preparing to tackle the following challenges:
The need of booster doses to reinforce and prolong immunity.
The development of vaccines that will be adapted to new variants.
The vaccine delivery will not be a one-time event but rather a continuous effort for the duration of the pandemic. The management of supply is key to make sure the population is vaccinated in a timely manner.
A focus on technologies that have proven their efficiency, like mRNA vaccines.
© Article written by the France-Vietnam Chamber of Commerce and Industry (CCIFV). Reproduction rights reserved.
The CCIFV strives to provide accurate and updated information and will correct, to the extent possible, any errors that are brought to its attention.
However, the CCIFV cannot be held responsible for the use and interpretation of the information contained herein.